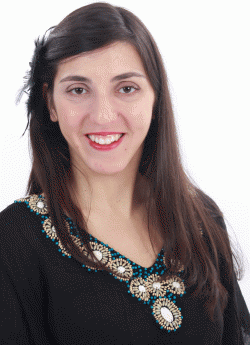 Name
Hourshid A.

Recommended

City
Montreal, QC
Teaching
Piano, Ear Training, Music Theory
Working With
Kids, Youth, Adults, Groups
Levels
Beginner, Intermediate, Advanced
Hourly Rate

$60
With eleven years of experience in piano teaching through conservatory classes, master classes, university and related workshops, Hourshid has attained the musical teaching skills and knowledge needed to help her students progress and learn with as much ease and enjoyment as possible. She creates a comfortable yet challenging environment for her students and teaches both the technical aspect of the instrument and the culture and history of the music in an interactive way. Aside from teaching, she is currently continuing her solo and chamber musical career.
Music Background & Credentials
Hourshid obtained a Bachelor's degree of music at the National Regional Conservatory of Metz in France and a Master's degree of music in Piano Performance at Laval University in Québec city. She has obtained her PhD in Piano Performance and Research in UQAM University. She has several years of experience as a piano performer, choral conductor, percussion player, leader of artistic activity groups, composition and chamber music player in different orchestras in Canada and France. Hourshid has won several awards including the Bruno-Biot Excellency scholarship.
Professional Experience
With a structred teachning method, Hourshid plans individual piano lesson, motivates students to achieve their goals perform in class concerts and events. She helps them to take part successfully in official examination at UQAM, McGill Conservatory or Royal Conservatory of Music.
Teaching & Other Details
Hourshid uses different piano methods depending on the goals and interests of each student. She uses a variety of methods and materials, based on students' individual abilities and needs. She also teaches appreciation for music and an understanding of musicianship. Hourshid believes that making music at any level and at any age has the power to enrich lives.
Availability
I am flexible and can easily adapt to student's schedule.
Preferred Teaching Place
At my studio and online via Google hangouts
Reviews
0 reviews available.