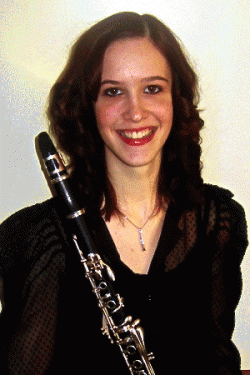 Name
Alaina P.

Recommended

City
Toronto, ON
Teaching
Clarinet, Music Theory
Hourly Rate

$45
I have been tutoring and teaching clarinet lessons privately at home and through Academie Ste. Cecile for a total of 7 years.
Music Background & Credentials
Graduated music teacher with a Bachelor of Music- Honours and Bachelor of Education degree. I also have training in tutoring ear training and theory.
Professional Experience
I have quite a lot of experience teaching clarinet to all age levels that ranges from beginner to advanced. I have taught at the National Music camp of Canada and was a part-time instructor at Academie Ste. Cecile's Conservatory of Music. In terms of performance, I perform once in a while as an alternate for the Windsor Symphony Orchestra.
Teaching & Other Details
Through teaching music at various schools, I have discovered that the younger generation are smart and creative individuals who are eager to learn. It is remarkable to watch students grow as individuals and develop their own self-expression by the way music moves them. I love to spread my love for music to others! It is so rewarding to see students improve and gain a love for something they never had before.
Availability
I am pretty flexible with the time and day.
Preferred Teaching Place
My home is preferred, but if the student lives in North York/Vaughan, I can commute!
Reviews
0 reviews available.