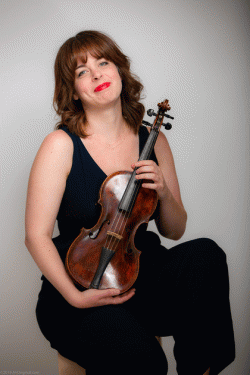 | | |
| --- | --- |
| Name | Daphne M. |
| City | Montreal, QC |
| Working With | Kids, Youth, Adults, Groups |
| Levels | Beginner, Intermediate, Advanced |
| Hourly Rate | $55 |
Suzuki and traditional violin teacher with 16 years of experience teaching all ages and levels.
Music Background & Credentials
I hold an MA in Historical Performance from the Royal Academy of Music, London, and have also completed Units 1-3 of the Suzuki Method teacher training.
Professional Experience
I am a teacher of both Suzuki and traditional violin, and have been teaching for the past sixteen years. I have taught privately in Greece and the UK, at various music conservatories in Athens, the Junior Department of the Royal Academy of Music in London, St Catherine's British School in Athens and most recently at South Shore Conservatory in Boston, MA. I currently teach at École FACE in Montreal, maintain a private teaching studio and also offers lessons via Skype or FaceTime. Daphne also enjoys coaching ensembles, and has worked with the South Shore Conservatory Youth Orchestra (SSCYO). In 2012 she coached and directed the inaugural concert of the Athens Youth Symphony Orchestra's Baroque Consortium (ASON) at the Goethe Institute in Athens. I have performed with ensembles such as Florilegium (UK), Charivari Agréable (UK), The Hanover Band (UK), Little Baroque Company (UK), Camerata Antica (UK), Collegium Musicum, Cambridge (UK), Jeune Orchestre Atlantique (France), Musicians of London (UK), and in the London Handel Festival.
Teaching & Other Details
Learning a musical instrument can be an equally exciting and daunting journey. Having gone through ups and downs myself throughout my own musical career, I value the need to have a constant love of music and a nurturing, supportive teacher. My aim is to create a solid technical foundation in all my students, regardless of their age, and create a challenging yet supportive environment. Being a Suzuki kid myself, I love having come full circle, and sharing the principles of the Method with both Suzuki and traditional students.
Availability
I am flexible during the summer, and will have a more solid schedule in September.
Reviews
0 reviews available.