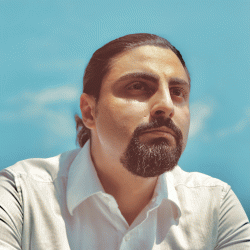 | | |
| --- | --- |
| Name | Dr. Daniel M. |
| City | Toronto, ON |
| Working With | Kids, Youth, Adults, Groups |
| Levels | Beginner, Intermediate, Advanced |
| Hourly Rate | $100 |
*Ask me anything Music* Accepting composers and songwriters in fortifying your fundamentals in harmony and counterpoint, form, structure, and writing skills--- as well developing a unique artistic voice and redefining how you communicate through music. For more visit www.danielmehdizadeh.com
Music Background & Credentials
Doctor of Musical Arts in Composition - University of Toronto (2020)
Professional Experience
Dr. Daniel Mehdizadeh (DMA, University of Toronto) is currently based in Toronto and is the Composer-in-Residence for the Scarborough Philharmonic Orchestra. He has been involved in both national and international festival series. He is regularly commissioned and holds numerous performances in Europe and North America. His works have had global exposure and have been broadcasted across Canada and US including appearance as guest composer on CBC Radio. ------------------------------------------------------ Mehdizadeh has worked closely with conductors Ronald Royer, Simon Rivard, Jeffrey Reynolds and pianist and conductor Jean Desmarais. Mehdizadeh has also served as Composer-in-Residence for University of Toronto and University of Toronto Schools. He has given lectures and composition workshops at UTS as well as adjudication and mentorship for the Scarborough Philharmonic Orchestra as part of their annual New Generation Composer Project. ---------------------------------------------------- Mehdizadeh's works receive funding through commissions and private patrons, as well as institutions including the latest Ontario Arts Council studio recording grant. He has collaborated with Orchestre de la Francophonie, Winds of SPO, the Princeton Singers and the Ewashko Singers amongst many others. Notable world-renowned performers include Belgian flautist Marc Grauwels and Dutch theremin player Thorwald Jørgensen with multiple commissions and performances in festivals around the world.
Teaching & Other Details
Depending on the student, each lesson is catered to the level and need of the student. Contact me for a free consult meeting to discuss your goals and lesson plan.
Availability
Days,Afternoons, evenings, weekdays and weekend.
Preferred Teaching Place
Nationally and internationally on Skype or Zoom!
Reviews
0 reviews available.