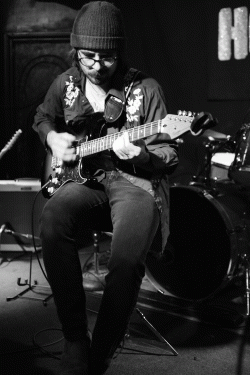 | | |
| --- | --- |
| Name | Michael T. |
| City | Toronto, ON |
| Working With | Kids, Youth, Adults |
| Levels | Beginner, Intermediate |
| Hourly Rate | $95 |
Gigging/freelance guitar player with over 15 years experience playing and recording. 2 years working as part-time music teacher in various locations throughout GTA. Including drums and guitar. With heavy emphasis on Blues/Roots/Folk.
Music Background & Credentials
Began playing guitar at age 13. Started on Bass then switched to Guitar. Basic music theory, with emphasis on interpretation and improvisation. Utilizing different techniques and styles of playing through various genres of music.
Professional Experience
~2 years as part-time guitar/drum teacher in Oakville/Burlington area.
Teaching & Other Details
I enjoy learning about the students goals and loves for whichever genre/style of music. We can work on covers, originals, techniques, improvisation, or even original material. The student is more than welcome to bring their own music to study or I can provide sheets/charts. Whether it is songwriting or learning a favourite tune, or simply jamming on some riffs, I enjoy whatever the moment brings and excel at creating an enriching and enjoyable lesson.
Availability
Monday through Friday
Preferred Teaching Place
I am able to commute to the students home, or hold the lesson at my own. There is also an option to go into a rehearsal space which I rent with a few other bands. It creates a space where the student can experience a setting in which all equipment is used, different amps, learning the soundboard etc, a great place to jam and not have to worry about the neighbours complaining about the noise! The rehearsal space does get used quite often by the other bands so booking this ahead of time would be best.
Reviews
0 reviews available.