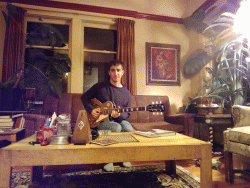 | | |
| --- | --- |
| Name | Aaron N. |
| City | Victoria, BC |
| Working With | Kids, Youth, Adults, Groups |
| Levels | Beginner, Intermediate, Advanced |
| Hourly Rate | $35 |
I am a working musician and have been teaching for around 3 years, both privately and for a music store. I have taught students from as young as 5 years old to as old as 45. I have had one weekly student over Skype on Salt Spring Island for 2 years, and those lessons continue to be both effective and enjoyable. Music is my passion and I feel privileged to be able to teach others.
Music Background & Credentials
I am completing a diploma of Music Performance part-time. I studied for over a year at Vancouver Community College and am taking further courses through the joint partnership of Camosun College and the Victoria Conservatory of Music.
Professional Experience
I have worked in a variety of industries, including service and hospitality, customer service, forestry, music education and in supportive mental health. I have been teaching guitar professionally for around 3 years.
Teaching & Other Details
I use a variety of teaching methods to tailor lessons to students interest. I usually ask what kind of music the student likes and what they are interested in learning. If it is an absolute beginner, I usually base lessons off of the first Hal Leonard guitar book. My philosophy with intermediate and advanced lessons is to do my best to incorporate technique, theory, a knowledge of how the guitar works while teaching music, or to try to apply technique or theory to music. I find that this keeps lessons and students approaches fun and interesting.
Preferred Teaching Place
At client's homes and online.
Reviews
0 reviews available.