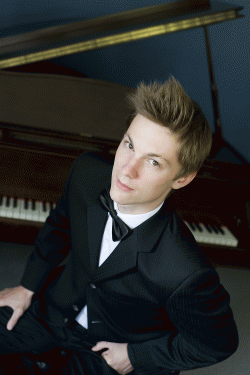 | | |
| --- | --- |
| Name | Clinton D. |
| City | Chilliwack, BC |
| Hourly Rate | $65 |
 Piano Teacher Began teaching and giving master classes professionally in 2000 to both children and adults of all ages and levels  Concert Pianist Performing across North America, giving solo recitals and performing with orchestras since 2007
Music Background & Credentials
Education • Graduated from high school with honors in June 2007 • Accepted into the Glenn Gould School of Music in Toronto, Ontario and awarded a $14,00 scholarship • First Class Honors with Distinction on A.R.C.T. in June 2007 • Accepted into the University of Victoria, awarded yearly piano Cathcart scholarship for outstanding academic and pianistic achievement • Completed Bachelors of Music degree in Piano Performance at the University of Victoria, April 2012 • Accepted into the Cleveland Institute of Music and awarded a $25,000 scholarship towards Masters of Music studies • Completed Masters of Music degree in Piano Performance at the Cleveland Institute of Music in May of 2014 • Performed in master classes for both Daniil Trifonov and Sergei Babayan at the Cleveland Institute of Music • Studied with Edward Parker, Ian Parker, Dr. Syer, Shoko Inoue, Marc Durand, Emanuela Friscioni and May Ling Kwok
Professional Experience
Professional Experience  Performed solo recitals throughout Canada and the United States since 2007  Performed with the Chilliwack Metropolitan Symphony Orchestra in May 2007 and again in November 2009  Performed in the Kelowna Pianoforte Festival in August 2010, featured as one of Canada's best young talents  Performed with the Thompson Valley Symphony Orchestra in March of 2011  Awarded the highest mark in the University of Victoria piano department from 2008 to 2012  Awarded and maintained a $25,000 annual scholarship for outstanding pianistic and academic achievement at the Cleveland Institute of Music from 2012 to 2014
Teaching & Other Details
Teaching Philosophy In creating a teaching philosophy statement, it was imperative that I take into consideration the permeability shared by all students. I make it a priority, especially with young children, to create a caring, supportive and enjoyable atmosphere and to demonstrate this through my attributes as a teacher. Although each student may have a unique learning style, I maintain certain priorities for each student and hope they will all learn the same musical concepts and general life lessons. My goal, for every student, is to become a well-rounded musician. I have the responsibility to facilitate through my teaching, the following principles: Priorities • To be, first and foremost, engaged joyfully in the material so that the student can absorb this energy and enthusiasm for the subject at hand. • To provide students the tools and directed freedom to express their unique creative voices and eventually, the ability to make informed decisions on their own accord • To examine each student uniquely, assessing when to challenge them and thus strive towards excellence. • To demonstrate physically comfortable and correct ways of playing the piano so that their playing will be of ease and no physical tension will be present. Also, to connect this kinesthetic feeling acutely to the ear. • To patiently acknowledge the necessity to listen to students express their energies through communication, while still maintaining focus in the lesson. • To be attentive in discovering each student's unique demeanour and work to create a trusting bond between student and teacher. Furthermore, I will empathetically recognize each student's learning pace and style. • To encourage the student through specific, positive criticism. • To seek to develop in my students a healthy, positive and confident relationship with the piano. • To demonstrate music with energy and character, with the intent of sustaining a student's attention and creating an excitement within, that they aspire to emulate. Life Lessons • To impart an understanding that discipline, hard work and passion produce successful results. This can be accomplished by unearthing one's own personal motivation, not that of an external source. • I will ask questions of my students with the purpose of creating critical thinking and analytical skills and opinions. • The confidence to believe in one's ability and the know-how to teach and lead others Musical Concepts/Ideas • To cultivate fine aural abilities including: audiation, through singing together and ear training exercises. • To cultivate rhythmic embodiment and fluidity through movement together, at and away from the piano. • A keen technical facility with the goal of servicing the music.
Availability
I am flexible and can easily adapt to a student's schedule.
Preferred Teaching Place
I am willing and able to teach anywhere in the Fraser Valley!
Reviews
0 reviews available.