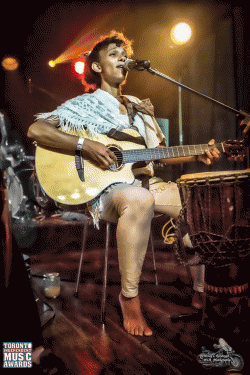 | | |
| --- | --- |
| Name | Amai K. |
| City | Toronto, ON |
| Working With | Kids, Youth, Adults, Groups |
| Levels | Beginner, Intermediate, Advanced |
| Hourly Rate | $35 |
Amai Kuda has been featured in NOW magazine and on CBC's Big City Small World, as well as performed at venues like the Jane Mallett Theatre, Harbourfront, The Rivoli, The Garrison, and festivals such as Luminato, Kultrun, Big on Bloor and Small World Music Festival. She has given workshops on music at public schools, Universities, libraries and community centres throughout Southern Ontario, in the Caribbean and Europe. In 2015 her band was selected as one of the '101 Standout Artists' during the nationwide CBC Searchlight competition. They have opened for the likes of Joel Plakett, Kellylee Evans and Sarah Slean, and collaborated with M1 of the legendary HipHop duo Dead Prez on a call-to-action song called "We Can Do It". Most recently the group won the Best Folk/Roots award and also placed 2nd for the Best Song across all categories at the Toronto Independent Music Awards.
Music Background & Credentials
Amai Kuda is primarily self-taught as a singer/songwriter. However, as a youth she had six years of piano lessons, two years of vocal coaching, and three years of guitar lessons as a basis for her musical development.
Professional Experience
Amai Kuda has been a full-time musician for ten years and her music has won awards and grants. She is respected enough in the arts community to have been invited to be a juror for the Ontario Arts Council.
Teaching & Other Details
An original technique that employs using proper warm-up and vocal care as prescribed by voice doctors, breath-work and learning to sing from the diaphragm, as well as energy work that helps vocal students to access their own connection to the music and bring forward their own unique style and voice. For songwriting Amai Kuda also works with students to find their sources of inspiration so they can bring fourth work that is absolutely unique to them. With her musical partner Y Josephine, classes are also offered in advanced cajon, intermediate bongo and conga as well as basic djembe playing.
Availability
Tuesdays, Wednesdays, Thursdays in the evenings are ideal, but I am also able to make time during the day mid-week.
Reviews
0 reviews available.