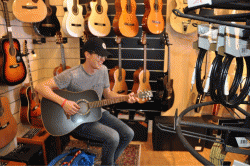 | | |
| --- | --- |
| Name | Andrew D. |
| City | Whitby, ON |
| Working With | Kids, Youth, Adults, Groups |
| Levels | Beginner, Intermediate |
| Hourly Rate | $23 |
Hobbyist musician with roughly 9 years of playing experience. Teaching experience to school kids, peers, and family members
Music Background & Credentials
About 8 years of guitar lessons, music classes throughout high school, brief theory lessons
Professional Experience
Experience recording/ producing for some friends and their bands, experience in multiple bands, as well as performances in a variety of genres
Teaching & Other Details
For beginners, I realize how important it is for them to find a passion for their playing. I start off by teaching them the basics of playing, then proceeding to teach them an easy song that they want to learn where we can incorporate the basics of playing. This way the student gains a connection to the instrument, rather than being drilled with scales and theory to start. I think the best way to approach theory once the student is ready is by incorporating the theory lesson into a song so that they can see how it is actually incorporated into music. As the student progresses we will continue to practice playing techniques and being practicing scales to improve aspects of the students playing.
Availability
Days, afternoons, and early evening works best as I work my other job many nights
Preferred Teaching Place
Wherever the student is most comfortable learning. I have a home studio that is a great learning atmosphere, with amps, guitars, and pedals that the student can experiment on, as well as record with if they want to expand their horizons
Reviews
0 reviews available.