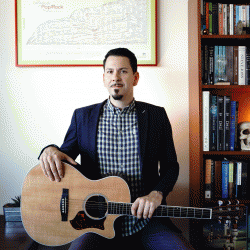 Name
Jamie R.

Recommended

City
Toronto, ON
Teaching
Guitar
Working With
Kids, Youth, Adults
Levels
Beginner
Hourly Rate

$45
Professional guitar player / singer with 15 years of performing experience and 4 years of private teaching experience.
Music Background & Credentials
15 years of studio work, original compositions DSW diploma + BA Psychology / Music Therapy
Professional Experience
15 years of live performance - solo / duo acoustic Casual beginner's guitar lessons, ages 18-45 10 private students between 2014-2017
Teaching & Other Details
I developed a method of intro guitar that I call 'Chord Connections' - starting with Am and Emaj the student is introduced to the basic shapes and as they grasp each shape we slowly move to an extention of the shape, moving from chord to chord week after week filling out their knowledge of chords and the fretboard with ease.
Availability
I am very flexible and can adapt to a student's varying schedule.
Preferred Teaching Place
My home or the student's home both work for me.
Reviews
0 reviews available.