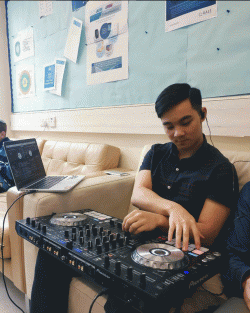 | | |
| --- | --- |
| Name | Zachary W. |
| City | Toronto, ON |
| Working With | Kids, Youth, Adults, Groups |
| Levels | Beginner, Intermediate, Advanced |
| Hourly Rate | $35 |
Hi, my name is Zachary and I have a strong passion for music (especially electronic) a lot. I taught myself how to produce music as well as beatboxing a few years ago, around 2014/2015 and I still have a lot to learn. However, I want to share the basics / my current knowledge in terms of music production / djing and beatboxing to people who are interested and want to learn a new skill instead of watching a bunch of videos online since it might not work for everyone and it might take more time for them to achieve the desired results (I've seen a lot of people gave up in the middle because they didn't know what to do next or where to follow). Therefore, I hope I can help those out :) Check out my instagram or youtube! instagram: @ernest.z.wong youtube: https://www.youtube.com/user/ZacharyMusicStation/videos?view_as=subscriber
Music Background & Credentials
I mostly taught myself all the skills as what I want to learn is not a popular subject back in Hong Kong. But I can guarantee you will learn something from me that you can't learn from the internet :)
Professional Experience
I'm a music producer + dj (mainly electronic, beats) I've some experience with the DAW that's called Ableton (digital audio workstation aka music software), which a lot of professional producers or songwriters are using. Beside of that, I'm also a beatboxer. I've won several beatbox competitions in Hong Kong back in 2014 - 2016. I've performed beatboxing and djing in some small and big events (such as TEDx). From school performances to concert hall performances.
Teaching & Other Details
I will test / check the level of my students first before teaching them as everyone is different. Later on, I'll share a bit of my experience with them depending on what I'm teaching / what they are interested in as well as asking them why are they interested in this "subject" or what outcome/results do they want to achieve. Then, I'll start teaching them (what's being taught depends on the level of the student)
Availability
Other than Tuesday (10am - 6pm), Thursday (8am-10am) and Friday (10am-2pm). I'm pretty much free most of the time
Preferred Teaching Place
Music Production / Djing : Prefer my place since I have the proper equipment, but if the student can provide the equipment (a studio room with monitors, computer, dj controller) I can go to their place Beatboxing: Clients place or my place are both fine. But I prefer booking a band room so we can use the amps and mics, which will be a better choice
Reviews
0 reviews available.