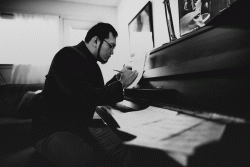 Name
Juro Kim F.

Recommended

City
Toronto, ON
Teaching
Piano, Music Composition, Songwriting, Music Theory
Working With
Kids, Youth, Adults
Levels
Beginner, Intermediate, Advanced
Hourly Rate

$55
Composer and music instructor with 9 years of private and group teaching experience in piano/keyboards, composition, songwriting and music theory. Besides piano instruction in all levels (in-home or studio), I offer composition/songwriting instruction and music theory tutorials (in-home, studio, or on Skype).
Music Background & Credentials
I got my first exposure to the keyboard at 4 years of age. Initially learning music by ear, I learned note reading during my grade school years and received formal training in classical piano during my high school and university years. I pursued composition studies at the University of the Philippines (BM) and at McGill University (M.Mus). I'm also a certified Yamaha teacher, with experience in teaching JMC1 (4-6 years old) and YMC1 (6-8 years old).
Professional Experience
As a composer, I had premiered works at music festivals and concerts across Asia, North America and Europe since 2009. I also became a recipient of the Goethe South East Asian Young Composer Award (1st place, 2009) and a finalist of the 5-Minute Piano Concerto Competition at the Music Biennale Zagreb (2017). Recent projects include commissioned works with the Thin Edge New Music Collective and the Art Song Collaborative Project, and performances in the MATA Festival (New York) and Nief-Norf Summer Festival (Knoxville, TN). As a pianist and keyboardist, I had taken part in numerous collaborations for several recitals and musical productions. I played keyboards in church bands since high school and have provided musical direction in various contexts. I also have organized workshops and mission trips in various locations in the Philippines.
Teaching & Other Details
I teach based on the student's goals while aiming to build rudimentary skills and foundation necessary for the student to explore his/her own path as a musician. In my experience, I also find merit in emphasizing finger technique and music theory/harmony even in my keyboard lessons, the same way that piano students are expected to learn these in classical training.
Availability
Currently with limited availability during after-school hours. [In-home]: Mon or Wed 1:00-4:00PM Tues 1:00-3:30PM Sat 1:30PM-5:30PM
Preferred Teaching Place
Teacher's home studio, student's home
Reviews
0 reviews available.