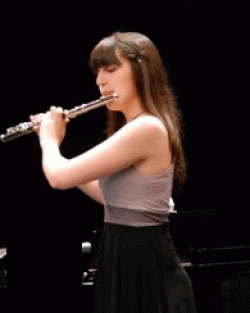 | | |
| --- | --- |
| Name | Marianne L. |
| City | Ottawa, ON |
| Hourly Rate | $35 |
Flute and recorder instructor with over 10 years of experience. I have 3 years of mentoring experience as a flute teacher and a music theory tutor with 10 students.
Music Background & Credentials
-Canterbury High School Graduate with the Certificate of Musical Arts Degree. -Music theory, up to grade 2 -Music harmony -Flute, up to grade 10 RCM (10+ years of performance experience) -Recorder playing experience (10+ years)
Professional Experience
Music Mentor (flute and music theory) at the Orkidstra Leading Note -Foundation (2+ years) -Section leader (for band) 2 years -Private flute and recorder teacher -Music therapist assistant at the Perly Rideau Retirement Home
Teaching & Other Details
-I can teach using the Suzuki method books as well as without any method books. (can make my own learning exercises adjusting them to the students level)
Availability
-Weekends all day (from 9am-4:30) -Weekdays after 4:30pm
Preferred Teaching Place
I am flexible, lessons could take place at my home in Ottawa, or I could meet the student at their home.
Reviews
0 reviews available.