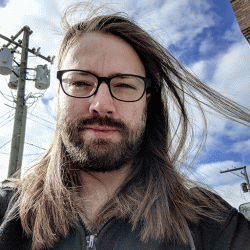 Name
Brenden M.

Recommended

City
Vancouver, BC
Additional Locations
Burnaby, Richmond
Teaching
Music Software, Music Composition, Synthesizer, Songwriting
Working With
Youth, Adults, Groups
Levels
Beginner, Intermediate, Advanced
Hourly Rate

$35
Update for January 2021. I am available online via Zoom to remote tutor music software and electronic composition. When public libraries open, I will be comfortable to meet at a table and not touch each other's computers/etc. If we meet at your home if Health Orders allow it, it will be wearing masks and not getting my hands on your gear.

If you are curious about music software, I have knowledge and experience!

Use digital and software production methods to create and shape your musical ideas!
I have 15 years of experience with computer audio, music software, MIDI devices, synthesizers, recording, mixing, and electronic composition.

I am ready to help you learn to produce music, to better understand technical aspects of recording and mixing.
Music Background & Credentials
Audio Engineering and Production, Pacific Audio Visual Institute, BC Sept 2010

● Program average around 94% (Honors)
●Topics included mixing/recording technique, career management, audio for video, music production, music software
● About 28 hrs/ month spent in studio internship while at school and hundreds of hours over 1 year, practicing recording and mixing in student allotted studio time.
Professional Experience
Using music software, such as Ableton Live, Pro Tools, Logic, and Reaper, as well as many free and paid plugins, I've done quite a bit of creative and professional work.

●2.5 years experience using music/audio software to edit narration when I worked for an audio book company.

●Recorded and co-produced a full album by a bluegrass band. We used a professional recording studio for recording, and I did the rest of editing, mixing, and mastering at home.

●Electronica composition: 15 years.

●Tutor: 8 years.
●Ableton Live user: 15 years.

●Home and professional recording, mixing, electronic composition, synthesizers, effects+plugins, programming rhythm, MIDI, and electronic percussion.
Teaching & Other Details
I have a strong knack for filling in comprehension and practical gaps to address areas where the student is both challenged and interested to expand.

For instance, to dial in settings on a more interesting synth or software, you should have the definitions of things like "filter and frequency" in mind as well as have an ears-on approach where you turn a certain knob and go "WOW that sound just changed, and I understand." Then you will really see creative ideas on their course to produced material.


Availability
Afternoons and evenings.
Preferred Teaching Place
Over the internet at this time.
Reviews
0 reviews available.