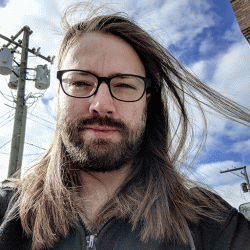 Name
Brenden M.

Recommended

City
Vancouver, BC
Teaching
Music Software, Music Composition, Synthesizer, Ear Training
Working With
Youth, Adults, Groups
Levels
Beginner, Intermediate, Advanced
Hourly Rate

$35
Spring 2022: Can meet via Zoom or in person (I am triple vaxxed) in Vancouver. I can tutor beginners in music software, sound design, mixing plugins, and home studio setup, with more than 16 years of experience: Computer music, MIDI devices, effects, synthesizers, recording, dialogue editing, and DAWs. Producing the sounds you imagine takes time and practice, and developing technical knowledge, even a bit of sound physics, will take you farther!
Music Background & Credentials
Audio Engineering and Production, Pacific Audio Visual Institute, BC Sept 2010. Program average around 94% (Honors). About 28 hrs/month spent in studio internship while at school, with hundreds of hours over 1 year practicing recording and mixing in student allotted studio time.
Professional Experience
Since 2021, I've been sound guy for an audio podcast. Since 2017, I've edited audio for a software company. I have a lot of experiencing editing voice overs. Around 2013 for a couple years, I edited narration when I worked for an audio book company. In 2011-2012 I co-produced a full album by a bluegrass band, The Broken Boats Band. We used a professional recording studio for recording, and I did the rest of editing, mixing, and mastering at home.
Teaching & Other Details
I believe in filling in comprehension and practical gaps to address areas where the student is both challenged and interested to expand. If you want to learn something, you have a very good chance of achieving your goals if you apply practice and have patience. For instance, to dial in settings on a synth or software, it helps to have the meanings of things like "filter" and "frequency" in mind, as well as to have an ears-on approach. I think you you can develop an idea then turn a certain knob, and go "Whoa, that sound just changed, and I might understand how." Then you might get closer in time to taking your creative ideas through their course to produced material.
Availability
Late morning to early evenings.
Preferred Teaching Place
Zoom. At your home studio in Vancouver. A cafe or library.
Reviews
1 reviews available.
---

Michael S.
Excellent Teacher, Informed and Personable
4 months ago
Brenden is an excellent teacher in the area of Audio & Visual production, and has a vast knowledge of most digital recording systems, as well is patient and detailed in his explanations of exactly how these systems work. I would highly recommend Brenden as a coach, mentor and teacher. I am a professional musician as well and have logged many hours in the recording studio as a producer, so I have worked with some very good engineers over the years. Brenden had a vast array of knowledge in the digital audio visual recording realm and I would highly recommend him to assist you with learning how to record with DAW, Audio Engineer and/or assist with producing your music and/or music video. Check me out on Sax in the George Michael Video - Kissing a Fool https://youtu.be/hhmj6Gm-6Do I have played Sax in Bands with Keith Scott Guitarist with Bryan Adams, toured across Canada opening for Mr. Mr. with the Jim Foster Band. Opened for James Brown, Greg Allman with the R&B All Stars Worked as a Music Publishing Manager / Producer of Karaoke with United Karaoke, Wrote and Produced Jingles with Can-a Jingle, Uptown Productions - Produced Video Productions for Canadian Airlines in flight destination, and have performed countless other gigs over the years - including my own corporate band Jet Set I know talent when I see it, Brenden is a very talented instructor! Check him out! Michael Skinner
---