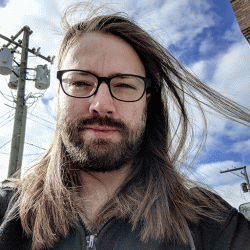 Name
Brenden M.

Recommended

City
Vancouver, BC
Teaching
Music Software, Synthesizer, Ear Training, Music Composition
Working With
Youth, Adults, Groups
Levels
Beginner, Intermediate, Advanced
Hourly Rate

$35
Software such as editors and plug-ins (aka Pro Tools, Ableton Live, iZotope RX). Synthesizer instruments and sound design (aka waveforms, samples, envelopes, modulation, creating your own sounds). Ear training: a digital perspective (aka how to listen, describe, and recognize sounds). Music composition in Digital Audio Workstations (aka MIDI, input devices, recording, editing, arrangement).
Music Background & Credentials
Audio Engineering and Production, Pacific Audio Visual Institute, BC Sept 2010. About 28 hrs/month spent in studio internship while at school, with hundreds of hours practicing recording and mixing in a studio environment.
Professional Experience
Since 2017, I've edited and mixed voiceovers for an educational software company. Several years ago, I worked for an audio book company. After going to audio school I have had technical work. Music is a passion. I like playing with music even if I'm not recording gold records.
Teaching & Other Details
Sound is part of physics so math can be quite useful in music production. To get the right settings on a synth or effect, it helps to understand terms like "hertz", "filter", "gain", "frequency" and so on. Pressing buttons might be technical, but music production is emotional, social, and spiritual. That means physics and our feelings overlap in some ways. Experimental, evolutionary. It's complex. Learning keeps happening. Music keeps getting expressed.
Availability
Late morning to early evenings.
Preferred Teaching Place
Zoom. At your home studio in Vancouver. A cafe or at the library. Usually students would learn their own software on their own systems.
Reviews
2 reviews available.
---

Melissa L.
Knowledgeable and patient instructor
9 months ago
Brendan is a wonderful instructor and is willing to go the extra mile to help you reach your goals. I went in knowing nothing about synthesizers, and Brendan researched my particular instruments to help me get the most out of them. He possesses a breadth of knowledge that I feel I only skimmed the surface of. I definitely recommend him as an instructor and look forward to continuing lessons with him in the future.
---

Michael S.
Excellent Teacher, Informed and Personable
1 year ago
Brenden is an excellent teacher in the area of Audio & Visual production, and has a vast knowledge of most digital recording systems, as well is patient and detailed in his explanations of exactly how these systems work. I would highly recommend Brenden as a coach, mentor and teacher. I am a professional musician as well and have logged many hours in the recording studio as a producer, so I have worked with some very good engineers over the years. Brenden had a vast array of knowledge in the digital audio visual recording realm and I would highly recommend him to assist you with learning how to record with DAW, Audio Engineer and/or assist with producing your music and/or music video. Check me out on Sax in the George Michael Video - Kissing a Fool https://youtu.be/hhmj6Gm-6Do I have played Sax in Bands with Keith Scott Guitarist with Bryan Adams, toured across Canada opening for Mr. Mr. with the Jim Foster Band. Opened for James Brown, Greg Allman with the R&B All Stars Worked as a Music Publishing Manager / Producer of Karaoke with United Karaoke, Wrote and Produced Jingles with Can-a Jingle, Uptown Productions - Produced Video Productions for Canadian Airlines in flight destination, and have performed countless other gigs over the years - including my own corporate band Jet Set I know talent when I see it, Brenden is a very talented instructor! Check him out! Michael Skinner
---