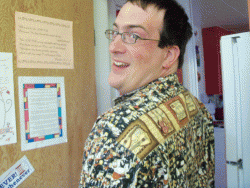 | | |
| --- | --- |
| Name | Jesse B. |
| City | Surrey, BC |
| Hourly Rate | $55 |
Semi-professional musician with 17 years experience on euphonium, 15 years of experience on tuba, 10 years of experience on trombone, 5 years of experience on horn/flute/clarinet/trumpet/saxophone, 1 year of experience with oboe/bassoon. I consider myself proficient to teach on low brass instruments.
Music Background & Credentials
B.A. Music Trinity Western University 2007
Professional Experience
I have taught clinics for large groups of euphonists and tubists before, as well as smaller groups. I have done a few one-on-one lessons.
Teaching & Other Details
I use some components of the Breathing Gym, and give students a wide base of knowledge.
Availability
Monday-Thursday, Saturday after 6:30P.M. and Friday and Sunday open.
Preferred Teaching Place
At the student's place of residence. Mine is stressed to fit my instruments.
Reviews
0 reviews available.