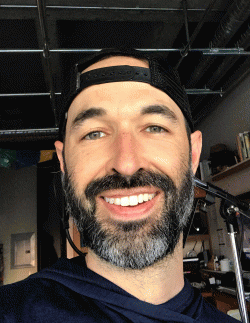 | | |
| --- | --- |
| Name | Dave G. |
| City | Online |
| Working With | Kids, Youth, Adults, Groups |
| Levels | Beginner, Intermediate, Advanced |
| Hourly Rate | $55 |
Passionate musician of 20 years, including performing in an original rock band for an extended time, earning a B.A in Contemporary Music at Humber College, studied music production and engineer in Toronto, and worked with broadcast talent in radio. David is an accomplished guitarist and singer, and aspiring songwriter and composer. He has experiencing teaching rock and contemporary guitar and voice, basic piano, theory, ear training, composition and more.
Music Background & Credentials
Engineering Certificate - Recording Arts Canada, Toronto, OntarioB.A Contemporary Music - Humber College, Toronto, Ontario
Professional Experience
10+ years combined live performance and teaching experience, the former in an original rock band in southern Ontario for several years, and the latter as a guitar, voice, and piano teacher at two local music schools.
Teaching & Other Details
My teaching approach is a combination of emotional experience and technical ability. In other words, I combine how you feel with how you play; I focus on building on the fundamentals, whether that's on the guitar, through voice, or otherwise, in a relaxed, open way. I prefer to base my lessons on material (music) that the student is already interested as opposed to adhering a rigid structure. My aim is for the student to have, after the lesson is over, something interesting, fun, achievable that they can work on in their spare time or between lessons.
Availability
I am most available during the week in the afternoons, or mid-morning/afternoons on weekends.
Preferred Teaching Place
At this time, I'd like to pursue teaching virtually over Google Hangouts, Zoom, Facebook, etc.. (I'm still experimenting with the best one!)
Reviews
0 reviews available.